Tag Management Services
Focus on your marketing, not your tags. Eliminate the headache of updating tags with streamlined and accurate tag management.
Data is only valuable when we are able to put it into action.
We have integrated tag management services with customer focused & data-driven marketing techniques to give greater audience insights with accurate data.

Cross device & platforms
All device mobile & desktop.

Ad Serving
Integrated with all ad serving platform.

A/B Testing
Testing & comparing two or more versions of webpage.

Conversion Tracking
Know how effectively your ad clicks lead to valuable customer activity

Retargeting & Engaging
Integrated audience engagement solutions.

Analytics
Measure website, app, digital and offline data to gain customer insights.
Solutions for businesses big and small.
We offer simple, yet powerful tag management solutions to help small businesses and large enterprises to adopt digital culture into their business faster.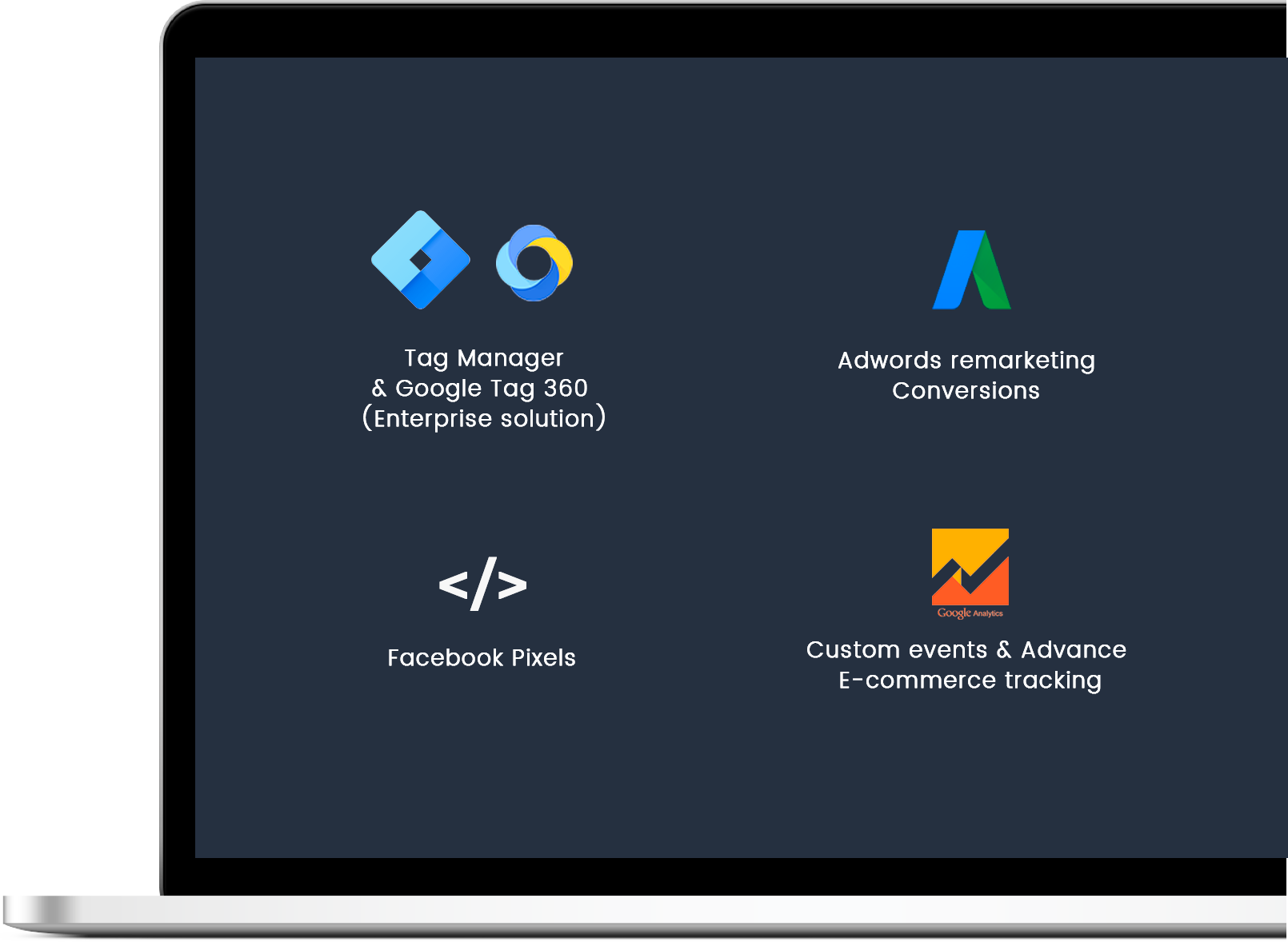 We work on mobile platforms using Firebase.
Google's platform for mobile developers, to make it easier than ever for marketing and development teams to work together.
Complete insights into customer journey & behaviour.
Integrated data strategy for your marketing, from audience insights to action.
True insights from online to offline sources to understand the full customer journey.
Building an integrated data strategy.
An integrated data strategy can help any business see customer journeys more clearly ― and then give customers more relevant ads and experiences that get results.
Data is a key transformation tool for all departments. It has become a core way of working. Our clients can't think of a marketing function without this capability, attitude, and infrastructure.

Project Research
In-depth knowledge of web properties & customer interactions with UI & UX.

Wireframes
We are well versed with the latest technology and taging developments.

Design
We suggest design improvements based on customer interaction and data.

Development
We can support development and implementation across all web properties.
© All Rights are reserved with Valueadvert Digital Marketing Agency Pvt Ltd