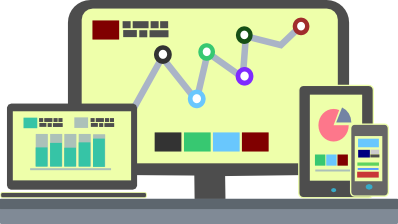 Empower
Digital Marketing with Analytics.
ValueAdvert Empowers your Digital Marketing with Measurement & Analytic.
---
Google Analytics shows you the full customer picture across ads and videos, websites and social tools, tablets and smartphones.
 TEST.ADAPT.SUCCEED.REPEAT
Once we know how well your latest promotion is converting, it's time to act. Start testing!
We use analytic tools which are built to help us to compare different approaches and see which performs best. Make changes, re-measure, and test some more. That's the smartest way to make the most of your business and meet your performance goals.
 Advertising & Campaign Performance.
Advertising Reports, Campaign Measurement, Cost Data Import, Mobile Ads Measurement, Remarketing, Search Engine Optimization.
 Analysis and Testing.
Advanced Segments, Content Experiments, Custom & Real-Time Reporting.
  Audience Characteristics and Behavior.
Audience Data & Reporting, Flow Visualization, Map Overlay, Mobile Traffic, Social Reports, Traffic Sources.
 Cross-device and cross-platform measurement.
Multi-Screen, Multi-Device Measurement.
 Sales and Conversions.
Attribution Model Comparison Tool, Data-Driven Attribution, Ecommerce Reporting, Goals & Goal Flow, Multi-Channel Funnels.
 Site and App Performance.
Alerts and Intelligence Events, Event Tracking, In-Page Analytics, Site Search, Site-Speed analysis.
 Build Your Audience.
 Know Your Audience.
We analyze visitors traffic and paint a complete picture of your audience and their needs, wherever they are along the path to purchase.
 Trace the customer path.
Where customers are can be as critical as who they are. Tools like Traffic Sources and Visitor Flow help you track the routes people take to reach you, and the devices they use to get there, so you can meet them where they are and improve the visitor experience.
 Act On Insights: Sell & Conversions.
 Reach your performance goals
When you need to see how your marketing programs are performing on all digital platforms. Whatever your business goals, we find powerful insights into which campaigns really drive visits, sales and other actions from your users.
 Reach the right audience.
To make the most of your marketing resources, your campaigns have to work together to deliver the right messages at the right moments. Tools like Remarketing and real-time reporting help you reach your most engaged viewers and see the impact of your message at the moment it's delivered.
ValueAdvert: Analytics
Analytic is the discovery and communication of meaningful patterns in data. Empower your Digital Marketing Campaign.
Get In Touch